There is something you may not realize that I feel the need to share.
I'm looking at you, watching you, reading your words.
And I see all your brave.

There are days when I take hold of your courage that so beautifully trails behind you like a sash waving freely in the wind and I grasp tight. It's the only way I keep moving forward.
I know in my heart that your bravery was hard earned and probably doesn't feel as brave to you as it looks to me. But, there it is, all the same, flowing wildly as God breathes over you and the colors and patterns of it all say something to my heart. "Don't let go, friend, it's worth holding on."
So I listen closely to the sound of courage in your shared heart stories and I grab a hold of your bravery, my friend, until I find strength to renew my own. I borrow some of your courage, sister. Mine is temporarily gone. I reach out, and you are there, so I take hold of your words, your encouragements, your touches, your faith, until mine returns.
My feet have stumbled on the broken pieces of my heart lately. Fear has been gnawing at the edges of all that is me and anger fully blossoms and sometimes spills out onto tender hearts that don't understand. My wind has been knocked clear from me. My words come in gasps, painted in deep hues of emotions that I'm struggling to put into print.

And I've come to realize this: One truth pursues me that I cannot easily face. I believe that I'm actually angry at God. And just between you and me, it's not a nice anger. In fact, I am not brave enough to face that deep, that raw an anger.

It is not Him I fear. My small fists pounding on his chest will stir only the pain of compassion in his heart. It is my depth that terrifies me, for its seems to yawn wide, and I fear I will fall in and it will swallow me in its pain. So, I hold back. Courage is not something I can muster.
If I look into your eyes, don't turn away, please. I'm looking for acceptance, for strength, for confidence that this is something I can get through.
If I seem like a blog stalker with the comments that don't stop coming, please trust I'm not maniacal, I'm reaching out and steadying myself on something I found in your words.
Thank you, brave one, for making your courage authentic, for not flying it so proudly I can't catch hold of its flicking tail way up in the sky. You keep it real and ordinary and rooted in the holy and knowable love of our God.
Don't worry, brave one. I know you too are reaching out and taking hold of the courage of someone else. In fact, I hope it is so. I don't need you to stand alone and be more than what you are to me in this moment. You have been real. That is enough.
We were not meant for isolated strength.
There are the brave in your life that you reach out to grip firmly, just as I take hold of you. We are all linking with sisters who live in the authentic open, in reach, willing to be known. By that simple act, the offering and the receiving of courage, we will know collective strength. We will know God's beautiful strength through His Spirit and find our hearts secure.
Secure because there was One who chose to be real. One who chose to be authentic. One whose bravery flowed like a red banner from a tree as his blood poured forth and he chose to love nevertheless. He kept His heart open when wounding was all he could expect back. That brand of brave now touches each of our hearts and we see it in each others eyes, in each others words. And I thank you, brave one, for allowing me to see that in you, when my head can't find the strength to lift up to see it in Him.
And on another day, when your burdens seem heavy, and your gaze is limited by pain, I hope that I can show you brave back.
I am linking up with Letters to, hosted by
Ruth Povey and
Sabrina Fowles
. The link up is found at Sabrina's this week. Hope you'll join them every first and third Monday of the month for their Letters To Link Up.
Letters To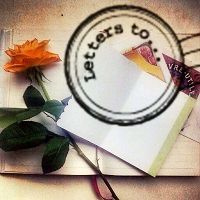 photo credit:
Joe_Focus
via
photopin
cc