The Lord often stirs my heart with link-ups and he speaks deeply to me as I ponder the prompts. Here's a new one that I'd love to see other people join in on. It's co-sponsored by Ruth Povey at
Learning {One Day at a Time}
and Sabrina Fowles at
Just Keep Singing
. The link up is called
Letters To
and today's prompt is: Letter to a Stranger. Thanks for stopping by. Hope you'll give it a try too!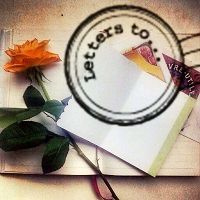 Your name was Mario. I feel I will never forget you. I was fresh off a mission trip. My faith was large and my desire to stretch myself strong. A group of us stepped out of our comfort zone and into a rescue mission in downtown San Jose. You sat in the rusty metal chairs waiting for food. Or maybe you didn't even make it in, but waited outside wondering about the group of teens that had descended into your world. You don't know this but I had one prayer. I wanted to be used by God. I fervently prayed, "Don't let me leave without sharing your love to someone." But everything was so organized. It was scripted and we sang our songs, I strummed my guitar, the gospel was shared as we stood apart in the designated area and then we were ushered through the doors. I threw out a final plea, "Lord, let me be used. Let me find someone to touch." But with vans in sight, disappointment was in full stride and ready to launch itself upon my heart. Then you approached.
"Excuse me, could you do something for me?" A tap on my shoulder stirred me from my thoughts. I turned. There you were; a Hispanic man, short and worn too early by hardships and hunger that food could never satisfy. I knew better than to answer a point blank, "Yes," so I told you that I would if I could. Your desire was simple. "Could you pray for me?" And you let your story spill out in simple phrases. I drank them in and my heart was stirred with compassion. It wasn't much of a request. You were imprisoned by your addiction. The streets were your home. You lost touch with your daughter. Your heart was broken with the shame. It was more of a confession. But I knew what you really longed for: a touch. As I shared with you, Jesus stepped forward through me. I found myself filled with such love and compassion.
I experienced much more power than I could contain in that moment. I felt crowded aside by all that Jesus in me. He was so eager to get to you and place his hands on your shoulder. I felt squeezed out and looking on from the side while Jesus ministered to you and his words of compassion flowed to you. I felt like the woman in the crowd who touched Jesus' hem and power flowed out. No one realized it. No one would have even taken notice if Jesus wouldn't have said something. And the power flowed out to you as you also reached out to touch the Lord, Mario. With tears in your eyes, you stepped away a different man. And I stepped away a different woman. Everyone seemed to have gone on. They didn't see what you and I saw. They didn't see Jesus step in with a very real presence to seek out that one lost soul. But, thanks to you, a stranger to my heart, I stood in the presence of the One I love more than all things. It's been over 20 years since that encounter but I think of you often. And when I do, I say a prayer for you. I say a prayer for Mario.